Is a VRBO in Clearwater FL Best for Your Vacation?
Absolutely! You can rent hundreds of affordable properties anywhere in the Sunshine State for a few days to weeks. And when vacationing in the Tampa Bay area, you can find some of the most luxurious properties when renting a VRBO near Clearwater FL. Through Sunshine Rental Holdings LLC, we can match you with the perfect vacation rental that's comfortable, versatile, and conveniently located near the area's best attractions.
The Advantages of Booking a VRBO Property
Instead of renting a room at a hotel or resort, why not book your stay at a VRBO property? Renting a home or condo presents numerous advantages to vacationers, with cost, comfort and convenience being top of that list! When renting through VRBO, you can expect:
Plenty of Room for the Whole Family – If staying at a hotel or resort with your family, you'll likely be cramped staying in the same room. And to upgrade the size of your room or rent another room, don't expect any "significant" discount. Conversely, private properties through VRBO have as much or as little space as you need. And if staying in a home or condo, you will have plenty of space and multiple rooms for your family or friends to spread out.
Preserve Your Safety and Privacy – While your hotel room is private, it's the only privacy you'll find during your stay. Between noisy guests and hotel staff, it's not easy to guarantee your safety and privacy. That's why many vacationers choose VRBOs instead. With a VRBO, the only ones staying in a home are you, your family, or anyone you invite. Additionally, VRBOs are secure properties, helping ensure the safety of your group.
Save More Money – Unfortunately, when on vacation, some of the most money you spend will be on where you stay. Worse yet, hotels and resorts can become significantly expensive if staying more than a few nights. Thankfully, a VRBO near Clearwater FL can help you save money. Fully-stocked kitchens help you save dining costs, more space lets you avoid renting multiple rooms, and more! Now you can spend your vacation money the way you want!
Why Choose Sunshine Rental?
Sunshine Rental Holdings manages multiple VRBO properties throughout the Tampa Bay area. Whether needing somewhere to spend your week's vacation or looking for a place to stay for a few months or more, we have the properties for you. From the excellent amenities our rental units offer to the exceptional customer service our property managers provide, you can be confident in the quality of your stay.
Amenities like fully-stocked kitchens, free Wi-Fi access, fresh sheets, toiletries, washers & dryers, beach supplies, etc.
The Sunshine Rental team provides cleaning and maintenance for each unit.
Always available managers, ready to answer or resolve your questions and concerns.
Helpful area guides with suggestions for the best places to shop, eat, and stay entertained in Tampa Bay.
Conveniently located condos within walking and driving distance of local parks, beaches, restaurants, and shopping centers.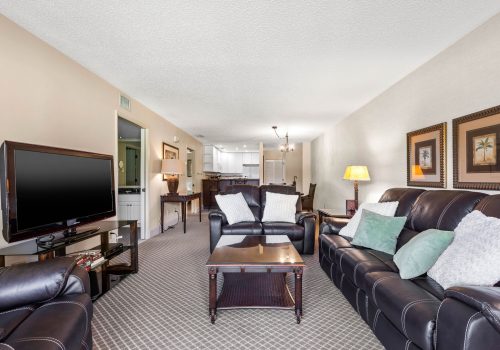 Call Today
Don't bother renting a room in a hotel or resort, and skip other less-luxurious listings for VRBO near Clearwater FL; instead, find the perfect vacation rental through Sunshine Rental Holdings LLC! To learn more about our properties, or if interested in our property management services, call 813-212-6952. Sunshine Rental Holding's main office is located at 29200 Bay Hollow Dr, Wesley Chapel, FL 33543.