Find Help Booking Your Rentals with Property Management in Clearwater FL
With one, two or a few homes or condominiums in Florida, you have the potential to start a lucrative vacation rental business! However, managing vacation rentals is more complicated than you might expect and takes considerable time and money. Rather than struggle to manage properties yourself, why not seek professional help and guidance? Thanks to Sunshine Rental Holdings LLC, expert property management for Clearwater FL has never been easier to find! Talk with Sunshine today to discuss the management of your vacation rentals.
Property Management You Can Trust
While there are dozens of property management companies available to Florida property owners, few offer the combination of quality care and service you want. For this reason, Sunshine Rental began offering property management services in the first place! Owners Rich and Heather, struggling to find a reliable management company for their properties, decided to take management services into their own hands! As such, from Sunshine Rental, you can always expect:
Manageable Contract Prices

When partnering with Florida property management companies, you'll find most local managers ask for anywhere between 25% to 50% of the cost for each rental unit they manage. Additionally, hidden fees or markups can sometimes be the norm for these managers. In response, Sunshine Rental offers our services for only 15% of the rental price. Furthermore, we stay transparent with prices and fees, only charging more when significant maintenance for a unit is required.

Faster Payout Times

Not only do the average property managers take a more significant percentage of your earnings, but they don't provide your payout for some time! The typical payout for your rental is only applied to your account once a rental is complete. Even for short rental periods, receiving compensation can still take weeks. That's why Sunshine Rental promises fast payout times for our clients. You'll receive your share of rental income within three days of guest arrival.

Optimized Listings

Although a property management company might boast of offering optimized listing services, they can't always deliver. Thankfully, such isn't the case with Sunshine Rental. We employ advertising specialists who understand how to inject SEO value into your property listings. Sunshine Rental ensures your unit ads and listings are fully optimized, use professional photography, and rank well on listing sites like VRBO or Airbnb.
Florida's Best Management Services
Sunshine Rental goes to great lengths to ensure property owners and tenants are happy and well compensated, respectively. To this end, we manage every aspect of your rental properties. From scheduling and booking to cleaning and maintenance, Florida property owners depend on our commitment to excellence in property management. Additional advantages of Sunshine Rental's property management for Clearwater FL include:
Dynamic Pricing – We aim to help clients make more money from their listings with ads that generate up to 40% more income wherever they're placed.
Five-Star Ads – With professional photos, expert writing, and SEO optimization, your ads will rank higher on popular listing sites.
Unit Care & Maintenance – We hire professional cleaners and maintenance crew for the care and upkeep of your vacation rental units. Properties are thoroughly cleaned and inspected between each tenant.
Exceptional Customer Service – Sunshine Rental provides quick responses to tenant questions and concerns and works to resolve tenant issues ASAP.
Damage Disputes – Sunshine Rental can help coordinate repairs and ensure you are appropriately compensated if your rental unit or property is broken or damaged.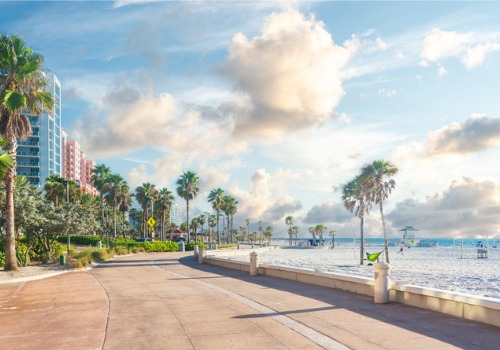 Call Our Office
Don't waste time with less-than-reliable property management companies. Instead, ensure your property management in Clearwater FL is handled by professionals who care about your success! Give the managers at Sunshine Rental Holdings LLC a call today. To learn more about our property management services, or if interested in our vacation rentals, call 813-212-6952. Sunshine Rental Holding's main office is located at 29200 Bay Hollow Dr, Wesley Chapel, FL 33543.